Let's Change How We Manage Business Communication
We provide Effective Communication
Mitel Networks Corporation, headquartered in Canada, is one of the most dependable sources of business equipment. The company has successfully integrated the selling of communication systems, maintenance installations, and other business connections. FBS ensures the best solution for client's needs by integrating Mitel products and providing the best intervention. We facilitate the distribution of Mitel controllers such as the MITEL 3300 MXe III, MITEL 3300 EX, MITEL 3300 Cx II, MITEL 3300 AX, MITEL 470, MITEL SMBC, and MITEL 3300 MXe.  
Mitel 3300 controllers are specially designed hardware platforms with the MiVoice business as the mother source. Mitel 3300 Controllers are to be had in numerous variants – CX II/CXi II, MXe III, EX and AX – with every one supplying precise competency to cope with a huge variety of commercial enterprise needs. The Mitel 3300 Controller may be deployed as a media gateway, providing commercial enterprises with a gateway to productivity, improving solutions like unified messaging and cellular integration. While not having to put off your present communication gadget. Your commercial enterprise desires a large commercial business image, to be competitive, and to usually improve patron service, worker productivity, and lower the costs of doing commercial enterprise, and this infrastructure can help to achieve them. The Mitel 3300 Integrated Communications Platform (ICP) offers the reliability and complete capabilities of a PBX with the benefit of use and cost effectiveness of a small commercial enterprise solution, complete with productivity-improving programmes and statistical networking capability.
The CX offers LAN interface port, a Dynamic Host, and a Configuration Protocol (DHCP) server. Tailored for small enterprises, the ICP CX/CXi supports IP phones, ONS/CLASS circuits, LS/CLASS circuits, one T1 or PRI link, ASU IIs and IP trunks for non-public networking.The system package of the CX/CXi controller consists of the additives such as LS/CLASS circuits, ONS circuits, Voice mail ports, DSPs, Dual DSP Module, Licenses, etc.The Basic System package deal does not encompass IP phones. The quantity of conference, voice mail, and compression assets is constant via way of means of the bought choice and the quantity of DSP gadgets available; the alternative values are adjustable. Compression alters the number of assets to be had for the gadget.
The Mitel 3300 MXe III is an improved model of the Mitel MiVoice Business 3300 Controllers. It's an especially designed hardware system on which the Mitel MiVoice business communication solutions. It supports analogue trunks for emergency functions or analogue fax machines for the enterprise. The different elements of the Mitel 3300 Controller are that it may be deployed as a media gateway, offering your enterprise with a "gateway" to productively improve solutions like unified messaging and cellular integration-all while not having to eliminate your present communications system. It supports the most devices, including ACD agents and 5550 IP consoles. The 3300 MXe III Controllers, which are still completely available to customers.
Mitel has introduced a brand-new hardware version to be able to assisting the MiVoice Business with the intention of additionally being utilised in MiVoice MX-ONE and MiVoice 5000 deployments. The EX-Controller be a supplement to the prevailing hardware family, specifically, the 3300 CX II and 3300 MXe III Controllers, which are still completely available to customers.
MiVoice Office 470 has a circle of relatives of IP-primarily based communications servers for professionals. It is suitable for agencies and small and medium-sized businesses in all industries. The own circle of relatives includes 4 structures with exclusive enlargement capacities. The structures may be increased by the use of cards, modules, and licenses, and are tailored to the unique needs of agencies. It covers the developing call for answers within the location of unified communications, multimedia, and greater cell services. It is an open device that supports international requirements and consequently, can be included in any present infrastructure. With its wide range of networking capabilities, the device is especially appealing to agencies that operate in multiple locations. At a low cost, coverage may even be extended to the smallest departmental places of work. The interface cards of Mitel 470 are equipped from the front into one of seven complete slots.
The Mitel SMB Controller, pre-loaded with the MiVoice Office four hundred utility software programs, is a verbal exchange server for the small and medium commercial enterprise segment. It is an effective all-IP device platform organized to run the next-generation, cloud-based applications, e.g., the MiVoice Office Mobile Application, through Mitel CloudLink, which is embedded within the solution. This provides the best security for all clients who want to migrate their communications to the cloud at their own pace, step by step. The verbal exchange server is accelerated with the use of interface playing cards and device modules. The SMB Controller ships with a geared-up CPU module, 6 analogue terminal interfaces, and a Gbit-LAN connection. In agencies with numerous locations, a huge variety of interface playing cards and add-on licences permit using SIP, analogue, and virtual terminals, in addition to the connection to the general public community through SIP trunks or ISDN trunk lines.
The universal threshold is circled on the axis of telecommunication. The navigation of your telephone system can forecast the future of your business. FBS ensures competent customised telephone services with the provision of top-quality business phones with an extensive collection of IP phones, Wi-Fi phones, DECT phones, Consoles, Analog, Digital, and Conference phones to accomplish your company's requirements corresponding to the area of business. In this cumulative phase of the world market, FBS aids you with a comprehensive line of IP desktop devices within a reasonable range. FBS collaborates with the Mitel MiVoice range of telephone systems to provide unique mouthpiece amenities. Customers are astounded by this leading creative firm's wide range of IP phones with cordless handsets and Bluetooth headsets, ranging from entry to advanced levels, with a distinct superiority in their calibre. Our platform assists each organisation to track their algorithm to success. 
The powerful productivity enhancing desk phone that gives business leaders the edge.
7" (800×480 pixel) color LCD Touch Display
Bluetooth 4.1
Mobile Integration
Mobile phone charging port
Cordless BT speech optimized handset
Enhanced full-duplex speakerphone
Multi-programmable personal touch keys
PCLink
6 context sensitive soft keys
A robust and highly customizable desktop communication tool designed to maximize the communication experience.
4.3" (480×272 pixel) color display
Bluetooth 4.1
Mobile Integration
USB Mobile phone charging point
Multi-programmable personal touch keys
PCLink
5 Context sensitive soft keys
Voice optimized handset
Programmable Personal keys
Context Sensitive soft keys
Speech optimized corded handset
Support for optional Cordless handset
Enhanced full-duplex speakerphone
Highly customizable via optional accessories
 
Designed from the ground up to combine flexibility and reliability for all users.
3.5-inch QVGA color display: 320×240 pixel
Crystal clear HD audio
High quality full-duplex speakerphone
Corded speech optimized handset
Speech optimized corded handset
Multi Programmable keys
Native DHSG/EHS analog headset support
USB port for headsets and accessories
2 Gigabit Ethernet ports with PoE
 
An enterprise grade desktop phone with standard telephony features - ideal for business of all sizes.
3.4" 128×48 pixel LCD Display with soft white backlighting
Eight Programmable Personal Keys with LED Indicators
Four-way Navigation Key with Select/OK Button
HD Wideband Audio
Dual Gigabit Ethernet Ports
Native EHS/DHSG Headset support
PoE Class 2
A well-designed device for standard communications.
2.75" LCD Display
Three Programmable Personal Keys
Three context-sensitive Softkeys
Navigation Clusters
12 Fixed Feature Keys
Incoming Call/Message Waiting Indicator
Dual 10/100 Ethernet Ports
PoE Power (802.3af)
Mitel Hi-Q Audio Technology
Full-duplex Wideband Handset and Speakerphone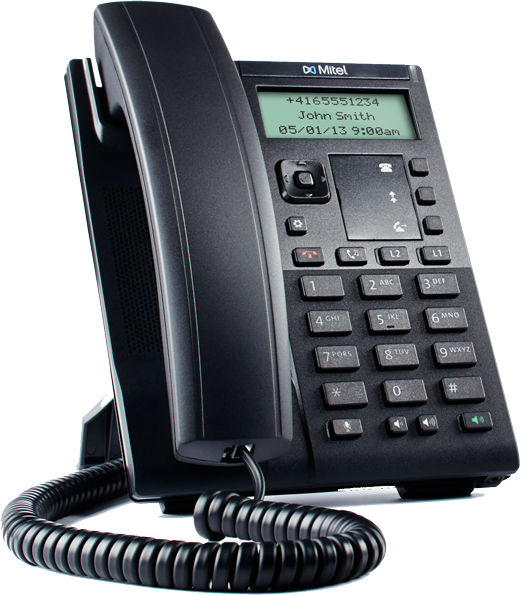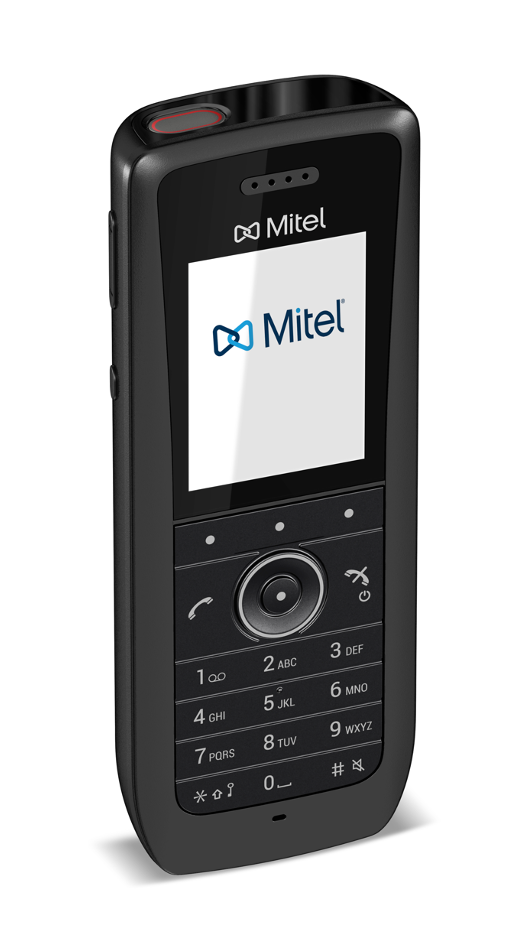 A feature-rich SIP enabled VoWiFi phone that is ideally suited for businesses that require both wireless voice and data communications.
Dimensions (l x w x d): 137 × 52 × 21 mm
Weight: 135g (battery and clip included)
240 × 320 pixel LCD color screen with white backlighting
3 programmable soft keys
9 programmable hot keys
Push button alarm
Up to 1000 entries with company phone book
Up to 250 entries in local phone book
14 ring signals, flashing LED and vibrator
Supports WiFi 802.11 a/b/g/n/ac standards
Hearing Aid Compatible (HAC)
Bluetooth 5.0 
MITEL 6970 CONFERENCE PHONE
A conference device with high quality audio and advanced integration features to make your meetings easier.
7″ (800×480 pixel) color LCD Touch Display
Mitel Hi-Q Audio Technology
360° beam forming microphones
Multi-programmable personal touch keys
6 context-sensitive soft keys
One-touch Join Meeting
Bluetooth 4.1
Mobile Integration